MidWest Pacific Rail Net & Logistics | 10100 N Ambassador Dr, Suite 105 Kansas City, MO 64153 | For More Information Email us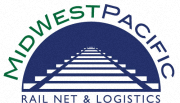 Midwest Pacific Rail Net (MPR&L) Industrial Development group is available to help you with any growth solution you may want. Email our Business Development and Real Estate team today at i[email protected].
We have full time rail and logistics transportation consultants dedicated to Industrial Development for the sole purpose of developing the best solution for your needs.
Identify sites that meet your needs for rail service
Design, build and commission your new rail siding
Expand your existing in-plant rail network
Identify warehouse and transloading sites

Disclaimer: The information in the Industrial Property section has been obtained from sources believed reliable. However, we encourage you to confirm the details and make no guarantee, warranty or representation about listed properties. You and your advisors should conduct a careful, independent investigation of the property to determine to your satisfaction the suitability of the property for your needs.